Commentaries on Acts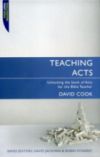 A couple weeks ago I began preparation to begin a series through the book of Acts. Since then, I've been reading the amazing book by Alan Thompson, The Acts of the Risen Lord Jesus.  I can honestly say that if I had not read this book (and I'm not done), I would no doubt have made some pretty serious blunders in my approach to the book as a whole.  And although I have quite a few commentaries on Acts already, I've ordered several more including the "must read" book, The Message of Acts.
Small Group / Bible Study DVDs
These DVD series will give us some wonderful resources for our church library and small group studies.  There are 3-4 more I'm going to try to order next month!
Commentaries on Daniel
Who doesn't want a few good commentaries on Daniel! Actually, when I was looking at my collection of OT commentaries, I realized that I only had a couple on that book – and they weren't all that great (unless you consider Walvoord's Dispensational approach a good commentary!).
Commentary on Proverbs