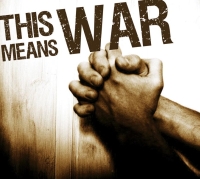 Be watchful, stand firm in the faith, act like men, be strong. ~ 1 Cor. 16:13
"In Paul's "one verse summary" of the book entire book, only 10 verses from the end of the epistle, he condenses the gist of his whole epistle into those short commandments. Here's the briefest, simplest possible summary of what the Corinthians needed to do to address all the problems in their midst. Indeed, if they would do just those four things – and do them faithfully – every problem that marred the testimony of that church could be solved." ~ Phil Johnson
These are orders for an army going to combat!  Paul reminds us in these verses that Christian life is a battle, not a banquet. As J.C. Ryle has aptly put it,
But it does cost something to be a real Christian, according to the standard of the Bible. There are enemies to be overcome, battles to be fought, sacrifices to be made, an Egypt to be forsaken, a wilderness to be passed through, a cross to be carried, a race to be run. Conversion is not putting a man in an armchair and taking him easily to heaven. It is the beginning of a mighty conflict, in which it costs much to win the victory. ~ J.C. Ryle, Holiness
Note the battle metaphors in the scripture!
Hand-to-hand combat:
12 For we do not wrestle against flesh and blood, but against the rulers, against the authorities, against the cosmic powers over this present darkness, against the spiritual forces of evil in the heavenly places. 13 Therefore take up the whole armor of God, that you may be able to withstand in the evil day, and having done all, to stand firm. ~ Eph. 6:12-13
Consider that this battle ever rages, never ends
Be Watchful
"The Christian soldier must avoid two evils – he must not faint or yield in the time of fight, and after a victory he must not wax insolent and secure. When he has overcome, he is so to behave himself as though he were presently again to be assaulted. For Satan's temptations like the waves of the sea, do follow one in the neck of the other" ~ George Downame
"Stay alert, stay awake, be attentive"
This word is used 22 times in the New Testament, often with regard to the coming of Christ.
Therefore, stay awake, for you do not know on what day your Lord is coming. ~ Matt. 24:42
Christ uses it again 3 times in Garden with the disciples where he means a practical and "prayerful watchfulness:"
Then he said to them, "My soul is very sorrowful, even to death; remain here, and watch with me." ~ Matt. 26:38
"This is a word with doctrinal, practical and eschatological overtones." ~ Phil Johnson
Need for vigilance is greater than ever!
1 But understand this, that in the last days there will come times of difficulty. 2 For people will be lovers of self, lovers of money, proud, arrogant, abusive, disobedient to their parents, ungrateful, unholy, 3 heartless, unappeasable, slanderous, without self-control, brutal, not loving good, 4 treacherous, reckless, swollen with conceit, lovers of pleasure rather than lovers of God, 5 having the appearance of godliness, but denying its power. Avoid such people.
~ 2 Tim. 3:1-5
Be watchful over words, ways, one another, be watchful of your enemy, false teachers, philosophies of the world, watch unto prayer and prepare yourself for the Lord's return so that you are not found, as those in the Lord's parable, as sleeping virgins who had not trimmed their lamps and made themselves ready.
Stand Firm in the Faith
Echo of the closing verse of 1 Cor. 15:58:
Therefore, my beloved brothers, be steadfast, immovable, always abounding in the work of the Lord, knowing that in the Lord your labor is not in vain.
This steadfastness in the faith is listed by Paul as an evidence of authentic faith in Colossians 1:23:
…if indeed you continue in the faith, stable and steadfast, not shifting from the hope of the gospel that you heard… ~ Col. 1:23

…so that we may no longer be children, tossed to and fro by the waves and carried about by every wind of doctrine, by human cunning, by craftiness in deceitful schemes. ~ Eph. 4:14

…take care that you are not carried away with the error of lawless people and lose your own stability. ~ 2 Peter 3:17

So then, brothers, stand firm and hold to the traditions that you were taught by us. ~ 2 Thess 2:15
We are to stand firm against the false teaching, worldly philosophy and pressures to compromise, capitulate and cower to secular humanism, political correctness, post-modernism, relativism, etc.
Act Like Men
Paul here uses a one word imperative in the Greek that is used only here in the New Testament.  It's impossible to translate this into a one word in English and capture the meaning of the word.  This word speaks to masculinity as opposed to femininity – maturity as opposed to childish immaturity.
"The battle, sir, is not to the strong alone; it is to the vigilant, the active, the brave."~ Patrick Henry
This same concept is expressed in 2 Sam. 10:12 KJV:
Be of good courage, and let us play the men for our people, and for the cities of our God: and the LORD do that which seemeth him good.  ~ 2 Sam 10:12 (KJV)
Paul is commending all of those characteristics that we think of as masculine, not simply courage – courage, strength, gallantry, boldness, stoutheartedness, heroism, daring, etc.
Notice that this command to "act like men" is sandwiched between two character qualities that describe the kind of manhood Paul is calling them to, "steadfast" and "strong."
Give us Men!
Men-from every rank,
Fresh and free and frank;
Men of thought and reading,
Men of light and leading,
Men of loyal breeding,
The nation's welfare speeding;
Men of faith and not of fiction,
Men of lofty aim in action;
Give us Men-I say again,
Give us Men!

Give us Men!
Strong and stalwart ones;
Men whom highest hope inspires,
Men whom purest honor fires,
Men who trample self beneath them,
Men who make their country wreath them
As her noble sons,
Worthy of their sires;
Men who never shame their mothers,
Men who never fail their brothers,
True, however false are others:
Give us Men-I say again,
Give us Men!

Give us Men!
Men who, when the tempest gathers,
Grasp the standard of their fathers
In the thickest fight;
Men who strike for home and altar,
(Let the coward cringe and falter),
God defend the right!
True as truth the lorn and lonely,
Tender, as the brave are only,
Men who treat where saints have trod,
Men for Country, Home- and God:
Give us Men! I say again- again-
Give us Men!

–Josiah Gilbert Holland
This does not mean reckless, belligerent, rude, arrogant, uncouth, etc.
The most critical need of the church at this moment is men, bold men, free men.  The church must seek, in prayer and much humility, the coming again of men made of the stuff of which prophets and martyrs are made. ~ A.W. Tozer
Be Strong
Not enough just to be bold and courage, but they need to be strong to withstand opposition and persecution.   Paul is not talking about physical strength – but he's still talking about character.  This is spiritual strength.
May you be strengthened with all power, according to his glorious might, for all endurance and patience with joy, ~ Col. 1:11

I can do all things through him who strengthens me. ~ Phil. 4:13

Finally, be strong in the Lord and in the strength of his might. ~ Eph. 6:10
We learn here that our strength for the battle does not come from ourselves!