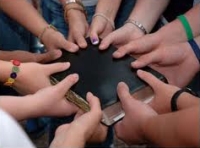 Recently, a friend of mine had the opportunity to visit a local church and experience their "cell group" ministry.  Below are his thoughts that I thought were worthy to share in full. And for those who don't know, a "cell group" is a form of church organization that is used in some Christian churches. Cell groups are generally intended to teach the Bible and personalize Christian fellowship. They are small groups of believers who meet, typically in homes, for Bible study and fellowship. Cell groups are known by a variety of other names, including growth groups, connect groups, care groups, life groups, fellowship groups, small groups and home groups. David Hunsicker suggests that the "cell" group concept in church structure "is becoming prominent in almost every denomination in American Protestantism." So the question should be asked, are they biblical? Do they promote healthy spiritual development?
Here is the text of the post:
I've recently attended a few cell groups from other churches in my area. This experience has reminded me why these cell groups are typically a bad idea.  Don't get me wrong, the social and relational aspects of a cell group are important and beneficial in the lives of many churches. When I say that cell groups are typically a bad idea, I am referring to they way we typically see Bible study done in these groups.

In the typical cell group, no one actually teaches. Rather, one person will moderate a conversation. The environment created is typically one wherein everyone is encouraged to share his or her opinion and all ideas are considered valid. Should another member of the group actually critique another person's contribution to the discussion, he is seen as being divisive. Rather than promoting Biblical fidelity, the typical cell group is actually promoting relativism.

Where this is the trend in cell groups, I am convinced it were better that they were not even done. The benefits cannot outweigh the damage. However, cell groups meeting in homes can be highly profitable. What is needed is the reformation of the cell group philosophy. With that in mind, here are some thoughts to that end…

1. Cell group leaders need to be teachers. That is, instead of moderating a conversation wherein every idea must be seen as legitimate, they should actually teach sound doctrine. Questions will then replace opinions and the teacher can answer questions from the standpoint of Biblical authority.

2. Churches wishing to have an effective, biblical cell group ministry will have to invest in the training of men to led them. This is hard work, but it must be done. A cell group with a teacher that is unqualified is just as bad or worse than the cell group without a teacher.

We also have to train men in how to teach biblically. We have been victims of the relativistic approach to teaching so long that it is all too easy to slip back into that mode. To simply state a few propositions and then invite the group to have a "discussion" is no advancement in the positive reformation of the cell group.

"…what you have heard from me in the presence of many witnesses entrust to faithful men who will be able to teach others also." 2 Timothy 2:2

3. Women have no business teaching a co-ed cell group, period! I'm rather short and blunt on this one because the scriptures are.

"I do not permit a woman to teach or to exercise authority over a man…" 1 Timothy 2:12

4. Our churches need to be confessional or at the very least have their doctrinal commitments well defined. Teachers need to be held accountable to the doctrinal standards of the sponsoring church. Those attending the group should know what these doctrinal commitments are. If they are disruptive in trying to promote views contrary to these commitments, they are informed that their opinions are contrary to the church's confessional commitments (which had already been provided to each member up front). Further conversation with that member should be pursued outside of the cell group.
Read more about cell groups:

What are your thoughts about cell groups?